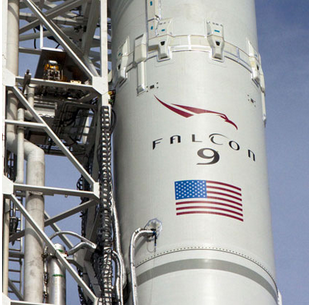 The SpaceX Dragon, the only privately-owned spacecraft to successfully dock to the International Space Station (ISS), is scheduled for a trip back to the station. The space module and its rocket, the Falcon 9, will launch from the Cape Canaveral Air Force Station in Florida on March 1.
In 2008, NASA contracted SpaceX to make modules and rockets that would travel at least 12 times between Earth and the ISS.  Dragon's first trip will begin "ushering a new era of partnership between public and private spaceflight programs," according to Space.com. The company hopes to fill the void left by the discontinuation of NASA's Space Shuttle program.
For this trip, the docking module is expected to carry about 1,200 lbs of supplies to the ISS and stay docked at the station for a few weeks. Astronauts at the ISS will unload the delivered supplies into the station, and they will load in about 2,300 lbs of data, experiments, and samples to bring back to Earth. It is expected to splash down in the Pacific Ocean near Baja California on March 25.
This will be the second ISS docking flight for the Dragon. A May 2012 demonstration flight was mainly successful. One of the craft's nine rocket boosters exploded, but it caused no major damage.
On March 1, SpaceX will try to get as close to perfection as possible.